Designed with Love
The story of Love by Lily starts with the birth of my daughter Emma Lily. I missed a nice playground where we could play together. After collecting various play mats in the living room, the idea arose to have them designed and made by my own. I wanted a design that would be fun for children but would also look great in our new home. Because I have a hard time choosing and I am not easily satisfied, this started the way towards diverse designs.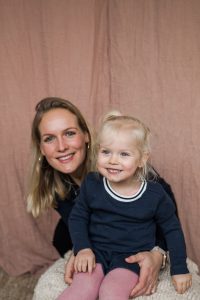 From the beginning there is a huge demand for our play rugs. The size allows you to cuddle, play, and read together. Playing together is what we really believe in. Our large play mats create a fun playground where you can play endlessly and where all children and (grand)parents will gather. They are also really easy to fold and store again.
Our play mats are suitable for both the nursery and the living room. They are easy to clean and can even get washed. The play mats are made of great quality fabrics and are padded so that they are nice and soft to play on. Meanwhile they remain strong enough to drive over with toy cars and firm enough to roll with them with balls. This is why our play mats get used for several years.
In the meantime Love by Lily has several involved people and companies that make the sale possible. As a team, we regularly hear very special stories from our customers. We think the involvement with our brand is fantastic and we love to hear how much pleasure you get from our play mats. We are always open to ideas and suggestions and really listen to our customers. If you want to show us where and with whom our play rugs end up, we really like it if you would tag us @love_by_lily on instagram.
Love,
Jessica – owner of Love by Lily